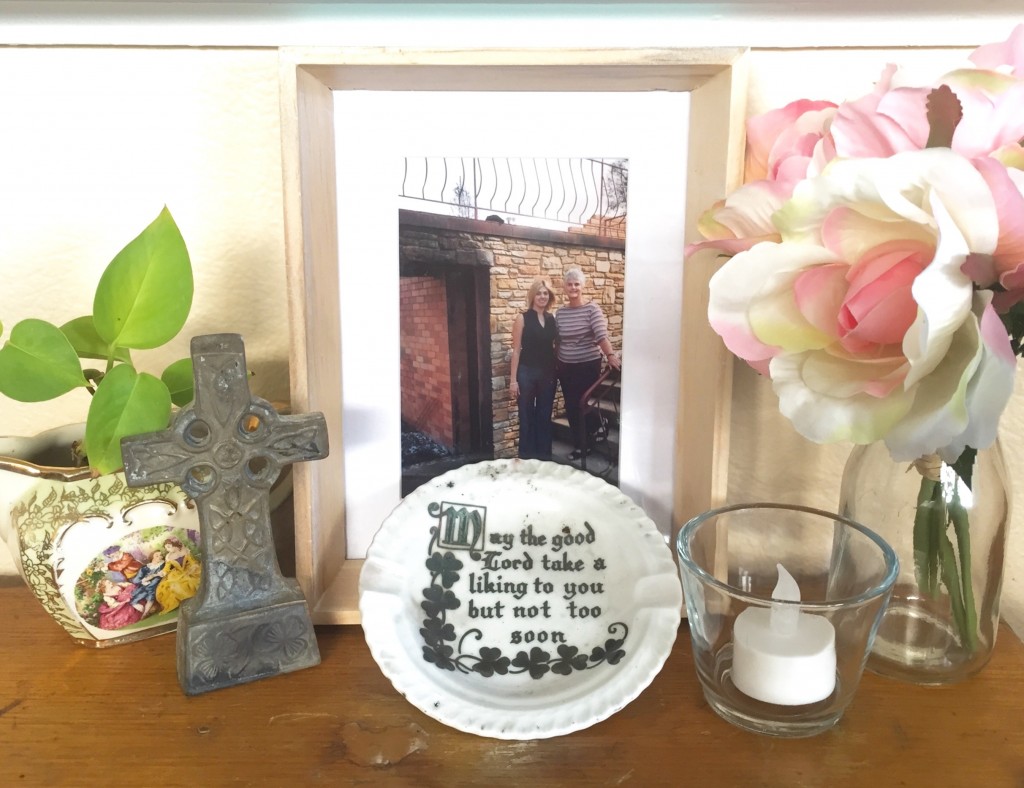 Sometimes things really just come down to timing.
Today over 13 years since my families own sudden home loss experience, I opened a book that I have owned this entire time, to read something I have never seen before…
The worlds that spilled out on the page acknowledged the grief loosing home can entail and perhaps most importantly included a beautiful suggestion, something tangible people can do to start to come to terms with it.
The info was so good I set about following the instructions right away and will include the text below.
It also inspired me to add a blog page to this website, so as I come across other helpful information I will continue to share.
So the photo above is my new home shrine (as the text below suggests).
The ash tray was one of the only recognisable things left in the ash and rubble of my parents home…a significant memento.
Growing up in Australia, we were always getting trinkets and things sent over from relatives in Ireland and this little ash tray was no doubt a gift at some point.
Finding it undamaged amongst the ash of literally everything else they had owned, and then seeing the message, certainly felt significant.
Particularly as my Mum & Dad, one of my brothers and I, had all been in the house as the fire front hit our street and were indeed lucky to get out alive.
And now today, after 'accidentally picking up a book this morning' this incredibly precious relic has finally found it's own place to call home.
I hope the words below may bring YOU some solace also and maybe even inspire you to create your own, special place to honour your grief and loss.
With all love,
Emily xo
---
Extract from 'House As A Mirror Of Self' by Clare Cooper Marcus
'Let us suppose your situation is that you have chosen or been forced to leave a house due to divorce, or that you have lost a house due to fire, earthquake, flood, tornado, or other natural disaster.
You are experiencing terrible pain and grief, not only for the loss of the physical space and its contents, but also for the memories anchored there and the future events that will never take place there.
Dreams of this house persist, you find yourself driving back there despite the loss.
If the loss is through a sudden, natural disaster, you are plagued with thoughts of 'If only…': 'If only I had saved the photographs…If only we had been home that weekend…If only we had paid attention to the weather forecast…You constantly replay, as if rerunning an old movie, how it was before the disaster, what happened on that day.
Or, in different circumstances, you remember special celebrations before the separation, or just uneventful family weekends in the house before the end of the marriage.
You have lost a deeply significant portion of your life, and it is totally appropriate to grieve.
If you find yourself in this period of grief, the following exercise may help.
Choose a quiet corner of a room where you now live and create a simple altar of memories.  You might place a small table in your bedroom and put a photo or self-drawn picture of your house, some mementos, some fragments recovered from the ruins, if loss was due to a natural disaster.  And then add a small vase of flowers; the flowers are the symbol of hope, rebirth and growth – just as they are the grave of someone you love who has died.
When it feels right to do so, spend a little time each day, sitting, looking at the shrine.  Let whatever feelings emerge have their place; if you feel grief, let yourself cry; if you feel anger, tell the house what you feel about the loss; if you feel nothing, or just numbness, let that be, too.  Nothing is required of you; there is no way you ought to be.  But it is important to give yourself the gift of a time and place to be with your feelings, whatever they are.
Return to your shrine, change the flowers, rearrange the mementos as often as you want to –  just as you might visit the grave of a loved one.  No one need know about your shrine.  It is there for you, to serve you, as long as you need it.
We all need a time and place to anchor and express our grief.
Funerals, memorial services, gravestones, cemeteries – they are present in every culture; grief is a part of the human condition.
Give yourself permission to grieve for your lost home; your connection to it may be every bit as deep and complex as your links to human companions.
Denial in the face of catastrophic loss is a human reaction, but in the end we have to face the fact that what has happened has happened.  The shrine is our place to do this' – Clare Cooper Marcus