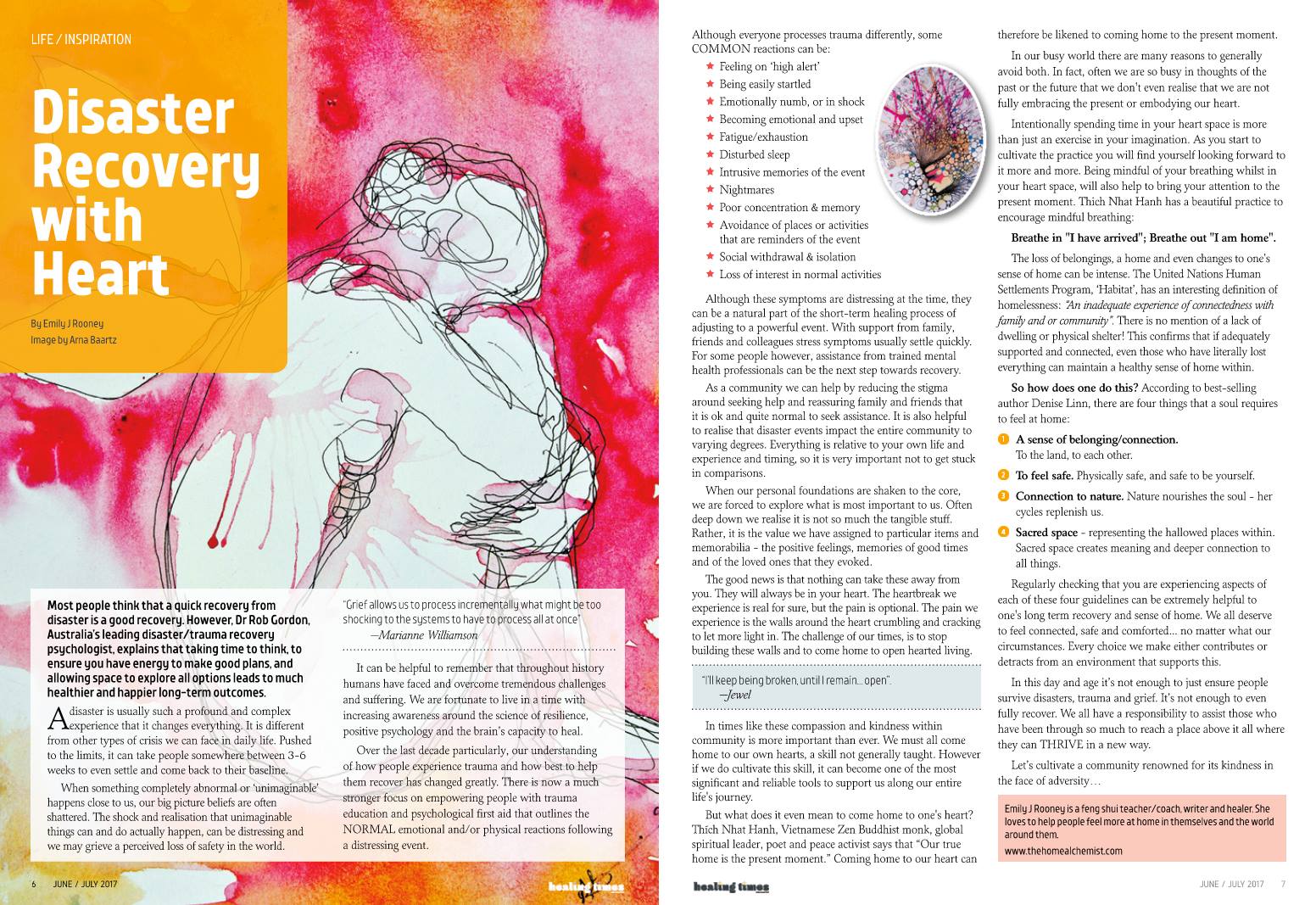 Most people think that a quick recovery from disaster is a good recovery.  However. Dr Rob Gordon, Australia's leading disaster/trauma recovery psychologist explains that taking time to think, to ensure you have energy to make good plans and allowing space to explore all options leads to much healthier and happier long term outcomes.
A disaster is usually such a profound and complex experience that it changes everything.  It is different from other types of crisis we can face in daily life.  Pushed to the limits, it can take people somewhere between 3-6 weeks to even settle and come back to their baseline.
When something completely abnormal or 'unimaginable' happens close to us, our big picture beliefs are often shattered.  The shock and realization that unimaginable things can and do actually happen, can be distressing and we may grieve a perceived loss of safety in the world.
'Grief allows us to process incrementally what might be too
shocking to the systems to have to process all at once'
Marianne Williamson
It can be helpful to remember that throughout history humans have faced and overcome tremendous challenges and suffering.
We are fortunate to live in a time with increasing awareness around the science of resilience, positive psychology and the brain's capacity to heal.
Over the last decade particularly, our understanding of how people experience trauma and how best to help them recover has changed greatly.  There is now a much stronger focus on empowering people with trauma education and psychological first aid that outlines the NORMAL emotional and/or physical reactions following a distressing event.
Although everyone processes trauma differently, some COMMON reactions can be:
Feeling on 'high alert'
Being easily startled
Emotionally numb, or in shock
Becoming emotional and upset
Fatigue/exhaustion
Disturbed sleep
Intrusive memories of the event
Nightmares
Poor concentration & memory
Avoidance of places or activities that are reminders of the event
Social withdrawal & isolation
Loss of interest in normal activities
Although these symptoms are distressing at the time, they can be a natural part of the short term healing process of adjusting to a powerful event.  With support from family, friends and colleagues stress symptoms usually settle quickly.  For some people however, assistance from trained mental health professionals can be the next step towards recovery.
As a community we can help by reducing the stigma around seeking help and reassuring family and friends that it is ok and quite normal to seek assistance.
It is also helpful to realise that disaster events impact the entire community to varying degrees.  Everything is relative to your own life and experience and timing, so it is very important not to get stuck in comparisons.
The loss of belongings, a home and even changes to one's sense of home can be intense.
When our personal foundations are shaken to the core, we are forced to explore what is most important to us.  Often deep down we realise, it is not so much tangible staff.  Rather, it is the value we have assigned to particular items and memorabilia – the positive feelings, memories of good times and of the loved ones that they evoked.
The good news is that nothing can take these away from you.  They will always be in your heart. The heartbreak we experience is real for sure, but the pain is optional.  The pain we experience is the walls around the heart crumbling and cracking to let more light in.  The challenge of our times, is to stop building these walls and to come home to open hearted living.
'I'll keep being broken, until I remain…..open'. – Jewel
In times like these compassion and kindness within community is more important than ever.  We must all come home to our own hearts, a skill not generally taught.
However if we do cultivate this skill, it can become one of the most significant and reliable tools to support us along our entire life's journey.
But what does it even mean to come home to one's heart?
Thích Nhat Hanh, Vietnamese Zen Buddhist monk, global spiritual leader, poet and peace activist says that 'Our true home is the present moment.'
Coming home to our heart, can therefore be likened to coming home to the present moment.
In our busy world there are many reasons we generally avoid both.  Infact, often we are so busy in thoughts of the past or the future that we don't even realise we are not fully embracing the present or embodying our heart.
Intentionally spending time in your heart space, is more than just an exercise in your imagination and as you start to cultivate the practice you will find yourself looking forward to it more and more.
Being mindful of your breathing whilst there will also help to bring your attention to the present moment.
Thich Nhat Hanh has a beautiful practice to encourage mindful breathing:
Breathe in "I have arrived"; Breathe out "I am home".
Coming home to your heart and the present moment you will find peace, sometimes when you least expect to.
Regarding home loss, Habitat, the United Nations Human Settlements Program have an interesting definition of 'homelessness'.  They define it as: 'An inadequate experience of connectedness with family and or Community'
Interestingly, there is no mention of a lack of dwelling or physical shelter!

This confirms that if adequately supported and connected, even those who have literally lost everything can maintain a healthy sense of home within.
So how does one do this?
According to best selling author Denise Linn, there are four things that a soul requires to feel at home:
A sense of belonging/connection.  To the land, to each other.
To feel safe.  Physically safe & safe to be yourself.
Connection to nature.  Nature nourishes the soul – her cycles replenish us.
Sacred space – representing the hallowed places within.  Sacred space creates meaning and deeper connection to all things.
We all deserve to feel connected, safe and comforted…no matter what our circumstances.  Every choice we make either contributes or detracts from an environment that supports this.  Regularly checking that you are experiencing aspects of each of the four guidelines can be extremely helpful to one's long term recovery and sense of home.
In this day and age it's not enough to just ensure people survive disasters, trauma and grief.  It's not enough to even fully recover.  We all have a responsibility to assist those who have been through so much to reach a place above it all where they can THRIVE in a new way.
Let's cultivate communities renowned for kindness in the face of adversity…
'It is in the shelter of each other
that the people live'
Irish proverb