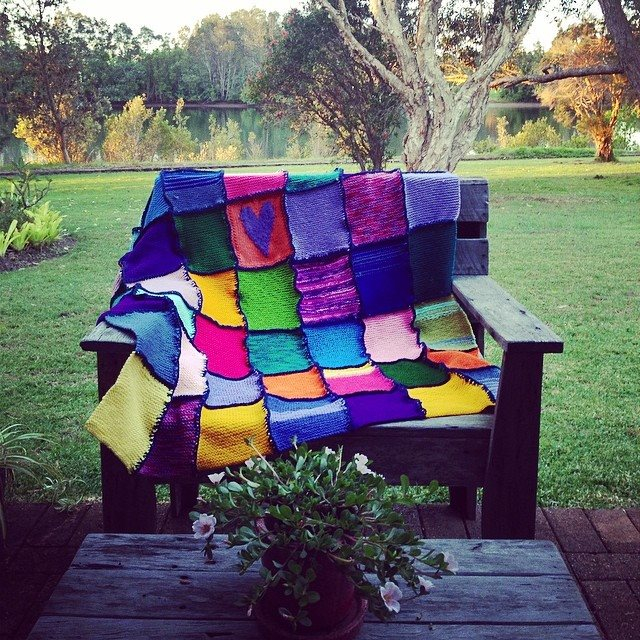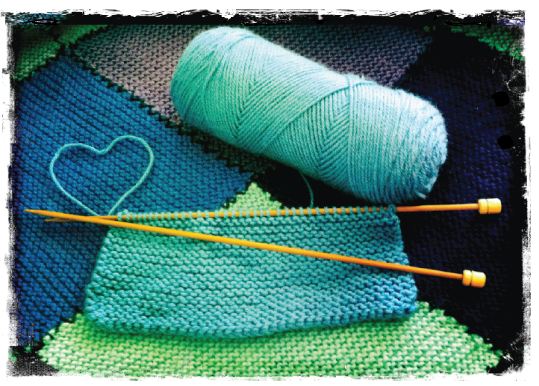 In the wake of recent flooding, we believe it's time to Wrap Up Northern NSW…
In 2003 a group of 15 women came together in Canberra to co-ordinate the creation of over 500 hand made blankets for people who had lost their homes in the devastating 18th January Firestorm.  The project aim was to 'create tangible keepsakes from the Canberra and wider community.'  The blankets had a practical benefit, but were also designed to be a physical symbol of community sympathy and support. As one journalist phrased it the knitters were 'patching up Canberra with woolly hugs.'
More than 2,200 individual knitters and crocheters contributed to the Wrap Up Canberra project from all over Australia as well as overseas.  In the end over 800 rugs were created and exhibited at Parliament House in September, and later distributed through the Recovery Centre.  My parents received one of the blankets and chose to give it to me.  They had lost everything, my house nearby had survived but I had lost many personal belongings stored in their garage.  I remember my Mum saying that I ought to have the blanket to acknowledge it 'happened to me too'.  However, in the months and years following the fires, I never really thought it did.  Somehow I believed that because I didn't lose my house, I wasn't affected – certainly not to the extent that many others were.
After the fires I did not attend any of the community meetings or events, or access any of the support services.  I went straight back to work and didn't think twice about the very life threatening situation I had been in.  Over a decade later I started to write about the experience.  I wanted to compile a useful guide to rebuilding one's sense of home after disaster and loss.  I started researching and going through old newspaper articles and media reports etc from 2003.  Back then, we didn't have time to read them.  We were busy surviving, fighting the insurance company (it took 12 months to get the house paid out) and just getting by.  My parents had moved in with me and my unspoken, designated role was to 'go back to work and be as normal as possible'.  So, it was confronting to read in black and white more details of what happened that day and realise just how lucky we were to be alive.
In fact, I learned that the fire truck that stopped out the front of my parents' house was there against orders.  It had raced there from the other side of town.  Had we not heard them scream to get out moments before the fire front hit, I hate to think what could have happened.
While researching and processing my own memories in a new way, I realised my ONLY personal connection to the event and community from that time, was the patchwork blanket that I had received.  It had always been special to me, but it suddenly took on a much deeper significance.  It wrapped me up through a difficult chapter of being diagnosed with and processing PTSD and to this day reminds me of the generosity and kindness of strangers.
Somewhere along the way my Mum and I started knitting/crocheting to create our own blankets to give back to other home loss and disaster survivors.  Some went to Tasmania and the Blue Mountains after fires there.  We've also been gifted beautiful blankets from local knitting groups and aged care facilities to pass on.
So far our blankets have mostly been going to people affected in one off house fires or events, who do not always get as much media coverage and support.
But now inspired by those wonderful ladies in Canberra in 2003, we are launching an ambitious project to 'Wrap Up Northern NSW'.
We are seeking assistance from anyone who would like to be involved in this project and the creation of patchwork blankets for flood survivors across our region.
We are aiming to collate 48,000 squares into 1000 hand made blankets.  1000 keepsakes of community kindness.
Project details are at Wrap Up Northern NSW and you can follow the progress here on the blog!
We're super excited and looking forward to bringing people together to wrap Northern NSW with LOVE…
Emily xo